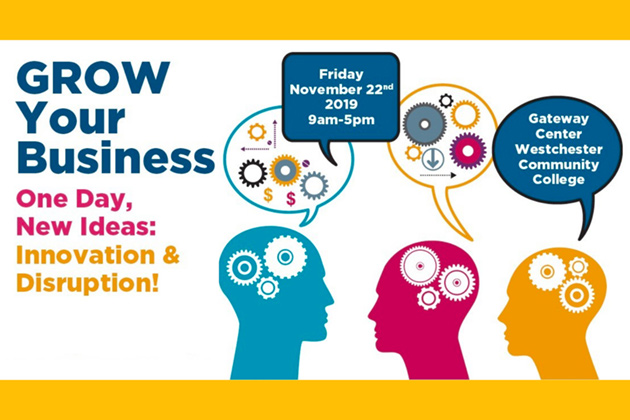 The annual GROW Your Business conference is Westchester Community College's signature entrepreneurship event and will be held Friday, Nov. 22, 2019, 9 a.m. to 5 p.m.
GROW inspires and empowers entrepreneurs and business owners across the Hudson Valley offering a full-day forum, with workshops and expo with a focus on networking, mentoring, business development, and driving revenue. Attendees are able to tap into a network of like-minded business leaders, potential partners and resources, and hear from marquee-name professionals and innovators from Westchester and beyond.
The day's program includes a variety of workshops for attendees to choose from as well as a keynote address by Jason Robinson, Director of Marketing for UPS. Jason develops competitive strategies to support organizational business growth objectives in New York City and surrounding markets. Jason fosters strategic partnerships and networking across the business's supply chain to maximize opportunity and disrupt the future. Prior to his current position, Jason had rotations in the operations, business development, and marketing functions at UPS based out of Phoenix, Arizona. Through his various roles, he has an understanding of UPS from an internal and external perspective, providing insight to effectively innovate with the changing global market.
Find out more about this event.
Event sponsored by westchestergov.com, Westchester-Putnam Workforce Development Board, NYBOC, BCW, UPS, Candela Systems Corporation, Tompkins Excavating.