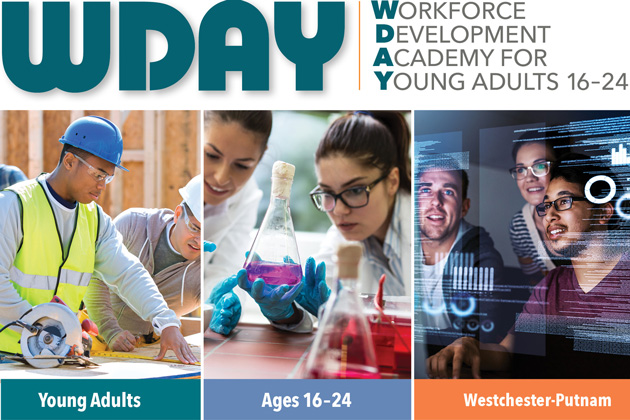 Workforce Development Academy for Youth (WDAY) is a year-round program that provides educational and employment services to eligible youth ages 16–24 through designated youth program operators throughout Westchester and Putnam Counties. The program provides resources and services to out-of-school youth (OSY) to help them achieve a high school equivalency diploma, explore career opportunities, enroll in higher education, and/or obtain employment.
The Westchester-Putnam Career Center Staff oversee contracted youth providers to implement the 14 WIOA Service Elements to eligible youth:
Tutoring
Alternative Secondary School Services
Paid and Unpaid Work Experience
Occupational Skills Training
Leadership Development
Education offered concurrent with Workforce Preparation
Supportive Services

Adult Mentoring
Follow-up Services
Financial Literacy
Comprehensive Guidance and
Counseling
Entrepreneurial Skills Training
Labor Market Information
Transition to Post-SecondaryEducation
Download the WDAY Overview flier.
Referrals are made through our partner agencies: