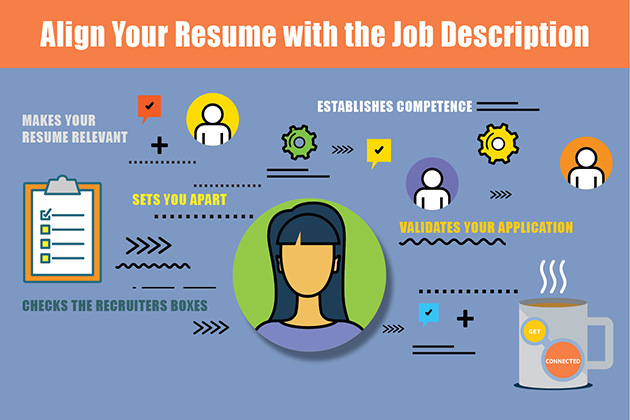 Working on our resume can be overwhelming and often becomes a much bigger a task than it needs to be, but getting started is as simple as going online to the career page of the job you are applying to. Simply read the job description and then strategically craft your resume to align with it. It may seem too easy, but the job description is the most valuable tool you have access to when composing your resume. It's all there—what should and shouldn't be included, what to emphasize, what to leave off, and what points you really need to drive home.
Here's how to get started:
Review the job description in detail, copy and paste into a Word doc and highlight the core skills required for the role at hand. Then edit the text as needed for your resume, using the employers terminology and key words to articulate your individual work experience. Be careful to weave in details of YOUR specific work experience and don't simply copy their job description into your resume.


Add all relevant must-have (and nice-to-have) skills from the job description to the "Skills" section of your resume, if you possess these skills. While its good to be confident in what you can do, don't embellish too far beyond your capabilities, as there is nothing worse that getting caught in a lie during the interview.


Detail how you used these skills within your last 2 roles as the top bullets below the "Work Experience" section of your resume. Identify the deliverables and responsibilities required for these past roles. Keep in mind that companies hire people for only one of three reasons; 1) to make money, 2) save money or 3) increasing productivity. Anything you put on your resume should reflect how you can do one of those things, and the more you can quantify outcomes, the better.


Add in any additional skills and experience you possess that you feel is relevant and may make you stand out. If you are changing industries, emphasize transferable skills. These are the skills you pick up in one employment setting that you can seamlessly transfer to your next job as they aren't industry-specific. You'll use many transferable skills—like writing, communication, and problem-solving skills—in every job you ever have.
Once you have a solid resume template created, be prepared to tailor your resume for each job to which you apply. Save each version with the name of the employer and the date to help you stay organized. Every employer is different and may have different priorities and you will want to grab hiring managers' attention by customizing your resume to what they want.
So to recap, aligning your resume to the job description is valuable because:
It makes your resume more relevant and better demonstrates your qualifications for the role
You will grab the attention of recruiters and hiring managers by using the same phrases and terminology in your resume that they are using in their job description
Your chances of being selected for an interview will increase
To conclude: Remember a resume is a marketing tool, and you need to capture your audience's attention within 5 seconds of opening or they will move on. Adding bullet points to the top of your resume of the most compelling and impactful skills/experience can get their attention BUT you have to constantly tailor them to the job you are applying to. It's well worth the effort!