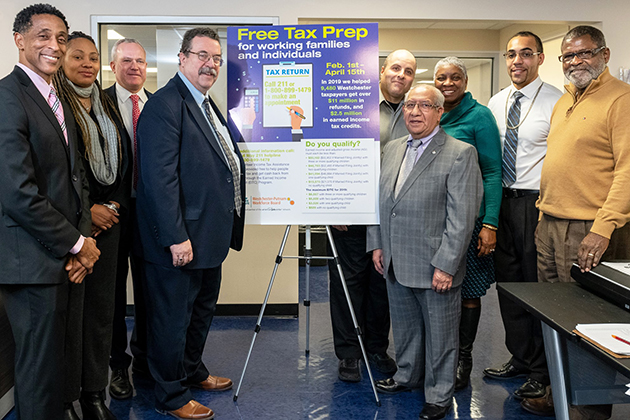 On Wednesday, Feb. 5, 2020 The Westchester-Putnam Workforce Development Board (WPWDB) kicked off the "Volunteer Income Tax Assistance" (VITA) Program at the Mount Vernon Career Center located at 130 Mount Vernon Avenue, Mount Vernon, NY.
The VITA program, which runs February 1 to April 15 at eight Westchester locations, helps low- and moderate-income individuals and families eligible for the federal Earned Income Tax Credit (EITC) file their taxes for free, including people with disabilities, senior citizens, and those for whom English is a second language. To make sure the program delivers maximum benefits, VITA relies on dedicated volunteers to act as greeters, assist with translation and call-center operations. Tax preparation is done by IRS-certified volunteers with all locations offering FREE electronic filing.
On launch day, volunteers were already hard at work helping participants file their tax returns include Antonio Stamos who has volunteered for the past 15 years, Shaun Cottle for 6 years, and Tamika Hall for 8 years. Their dedication and consistent service has resulted in customers requesting them as their tax preparers as they have built trust.
"It's a family affair," stated Stephanie Joseph of Mount Vernon. "I've been coming for 3 years and this year I brought my son Allan for the first time. I ask for Tamicka Hall every year as she knows me and does a great job."
"I decided to volunteer because the program had helped me when I got discharged from the army in 2003. I googled Free Tax Help and up came the IRS site at the Yonkers Library with a description of the VITA program," reminisced Stamos. "They helped me when I was in need so I wanted to give back and got trained as a volunteer tax preparer in 2005."
"I personally enjoy volunteering as a tax preparer because I like helping the customers get more money in their pocket that can help them pay their bills and credit cards off," added Cottle.
OJ Yizar welcomed those in attendance and encouraged employers to tell their employees about the free service. She then introduced Kevin McGuire, Commissioner, Westchester County Department of Social Services who articulated why Westchester County feels so passionate about the VITA program.
"People work hard and we want families to get back every dollar they are entitled to by law. Please tell everyone you know," expressed McGuire.
Thom Kleiner, WPWDB Executive Director thanked VITA Program Director, Victor Avendano as well as Rudy Aikens who serves as VITA site coordinator. Both have been involved for over 12 years.
"Victor and Rudy give their heart and soul to this program. They are at the office during the day and late at night well after everyone leaves, training the volunteers and providing services to the customers. We thank them for running a program that helps so many people," said Kleiner.
OJ Yizar concluded the program by highlighting all the collaborating partners who work diligently to coordinate the day-to-day appointments and operations—United Way 2-1-1, Volunteer NY, WestCOP, AARP, the IRS, Westchester County Government, Westchester Community College, Westchester Education Opportunity Center, Mercy College Westchester and Bronx Campus, Interfaith Council Association, The Yonkers Public Library, and the Westchester-Putnam Career Center Network.
The program is designed to provide eligible Westchester County residents with free tax prep assistance to maximize their returns and help those who are eligible take advantage of the federal Earned Income Tax Credit (EITC) implemented to help low income taxpayers making less than $56,000 a year.
The Earned Income Tax Credit (EITC) is a federal tax credit available to working families and individuals with modest incomes. Many eligible Westchester residents are not aware of the credit and therefore do not claim it. Maximum credits depend on income, marital status and number of dependents. It is estimated that about 80% of refunds are spent locally, which generates local sales, wages and jobs, ultimately boosting the local economy.
Call 211 or 1-800-899-1479 to make an appointment, or visit one of the eight locations listed.