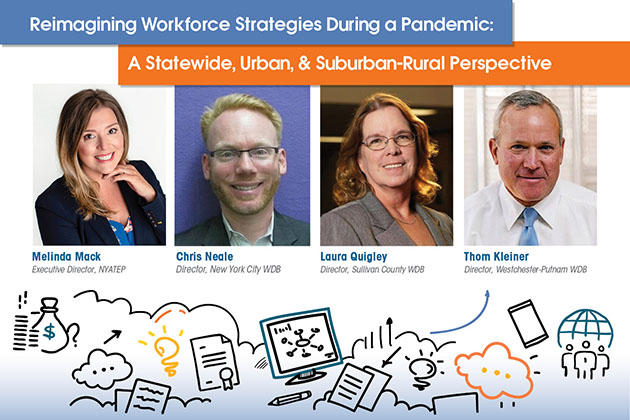 The Westchester Putnam Workforce Development Board held its 2020 Annual Meeting as a live webinar on June 25, 2020.
After opening statements from Westchester County Executive George Latimer and Putnam Deputy County Executive Thomas Feighery, a presentation of current New York State workforce conditions and statistics was presented by Melinda Mack, Executive Director, NYATEP. Melinda then led an informative and dynamic discussion with the panelists who added their regional and local perspectives. Despite obvious contrasts, the dialog landed on numerous common issues—access to technology and broadband as a modern-day necessity; the need to focus on quality jobs over quantity of jobs; the need for childcare solutions; the disproportionate negative impact of COVID-19 on low-income workers; ongoing racial inequality; educating the business community on bottom-line benefits of increasing wages; bringing training "to" the community; and the need to get creative and "color outside the lines" to address chronic workforce issues.
Melinda stated, "Before the economic downturn, the vast majority of the jobs that were being created across New York State paid less than $32,000 a year, and if you're someone who lives in the Westchester-Putnam region, you know how far $32,000 a year goes. The sectors that have been hit most dramatically are typically those lower wage occupations that primarily employ individuals of color or those with low basic skills."

Chris Neale, Director, New York City WDB, provided NYC data, adding, "The digital divide is huge in New York City. The chief technology officer from the Mayor's office put out a report in January stating that approximately 29% of New Yorkers lack reliable, high speed internet."

Laura Quigley, Director, Sullivan County WDB, pointed out that COVID-19 has exposed inequalities and motivated her board to get more creative in addressing chronic problems. "Being shut down has allowed us to step back to examine all of our partnerships and determine what's working and what's not. We've made a decision to permanently color outside the lines to create a stronger safety net going forward."

Melinda asked the directors to detail how they are getting creative in addressing systemic workforce issues. Thom Kleiner, Director, Westchester-Putnam WDB, replied, "Before COVID-19 even happened, we had been meeting with the educators and guidance counselors on how to expose students at an earlier age to the many different occupations and routes to a successful career, including technical and trade careers that may not always include a 4-year degree."

Chris added, "We're also trying to promote high road business practices among our business community. And it's something that's still in its infancy for our board, but we want to make the case to businesses that investing in their workers by paying them more, giving them better benefits and training, will positively impact their bottom lines."

Melinda pointed out, "If we want to be economically viable, if we want to be a region that's able to support the people who live in our region, if we want to be able to support commerce in a region, we actually have to think about the structure of the jobs."
You may also go to YouTube to watch the full discussion.