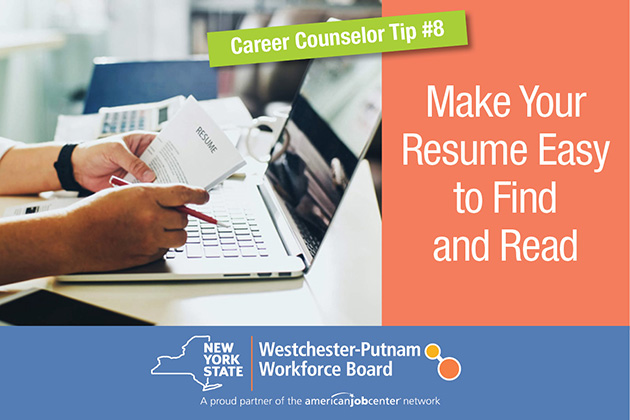 Businesses are hiring again and now is the time to make sure your resume is in peak condition to be a competitive candidate. People won't make the effort to read a resume that is unclear or unfocused so make it easy for recruiters and hiring teams to follow your career story with these three resume writing tips:
Resume space is precious: A potential employer needs to know your name and how to reach you. Don't waste space boldfacing your name and using a font size that takes up two to three lines of regular text that you could otherwise use to describe your skills.


Resume length: Old school thinking said that a resume generally should be one page, with a second page acceptable for 10 years of additional experience, and that no resume should be more than two pages. This is a myth that no longer applies because of the complexity that technology brings to jobs. Use an 11 to 12 point font and if the second page bleeds over to a third, don't worry. It's fine to use a third page as long as the experience and content is relevant and succinct. Most importantly, make sure your content is visually accessible and easy to read.


Focus is everything: The focus of your resume and the words used to tell your career history are of critical importance. Recruiters (digital or human) use a resume database to search for candidates using keywords that typically come from the job description developed by the employer. Consequently, your resume should mimic the emphasis and language of the job postings in the industry you are targeting. To craft a succinct focus for your resume, look at a handful of job postings for your ideal job to identify common phrases. This ensures your resume is telling the right story and using the appropriate language to tell it. Without this focus, your resume will not attract recruiters' attention—regardless of whether they are human or digital.