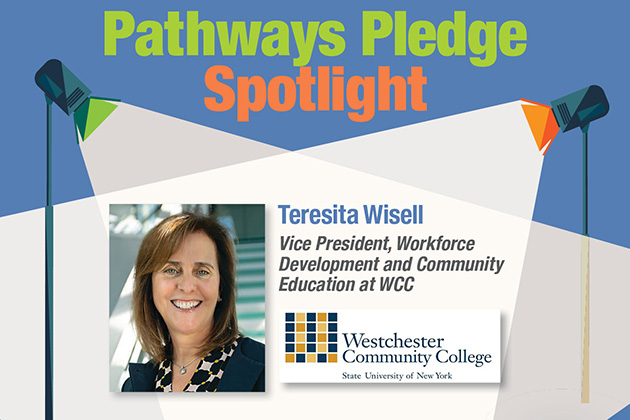 Interview with: Teresita Wisell, VP Workforce Development and Community Education, WCC
Q: Why did you make a Pathways Pledge?
A: We're very committed to being transparent with our students—both those in short-term workforce programs and those seeking certificates and degrees—about the roadmap they need to take to reach their academic and career goals. Making the pledge confirms a more intentional approach.

Q: Have you focused on any particular activity that fulfills the pledge?
A: We continuously engage with employers to assess their workforce needs. Those conversations include discussing specific job titles, what the day-to-day demands are, and where they need our help as educators. We speak about what the training should look like, getting students workforce ready, and how we can work together to build out curriculum to support their needs. We also arrange for employers to speak directly to our students. It's all about partnerships, communication, and collaboration.

Q: And so what would you say to encourage other educators and employers to take the Pathways Pledge?
A: Taking the pledge is easy. You sit for a moment and deliberate about the realization that you may be already doing some of the work, but you haven't come out and said it. Often times in my experience when you see something like the Pathways Pledge campaign you say to yourself, "we already do career fairs," but then I asked myself, "how can we do them better and how can we reach more students? Or how can we engage more employers? Do we give our students enough salary or career pathway information? Well yes we do, but where is it accessible? Can they find it easily? How do we talk about it in our classrooms or in our workshops?"

So I think there's two things: signing the pledge and then using the initiatives outlined in the pledge as a springboard to do things better or differently. That's ongoing.

Thank you Teresita for leading the way and making a Pathways Pledge! We encourage employers and educators to take five minutes and make an action pledge.