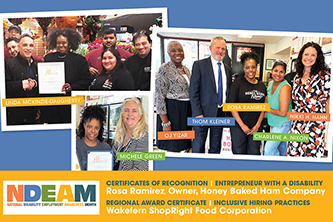 The 2022 Westchester National Disability Employment Awareness Month (NDEAM) celebration premiered on Oct 7, 2022 at 9 a.m. featuring two businesses from Westchester County. This year, two award recipients were nominated by Linda McKinzie-Daughtery of the Westchester-Putnam Career Center. Both Honey-Baked Ham (HBH) of Hartsdale, NY and Wakefern ShopRite Food Corporation won certificates of recognition for demonstrating the philosophy and spirit of hiring and mentoring job seekers with Disabilities, Veterans, and Youth.
Rosa Ramirez, a disabled veteran and owner of Honey Baked Ham Company, Hartsdale, NY was awarded a Certificate of Recognition for an entrepreneur with a Disability from Governor Kathy Hochul and Chancellor Lester Young Jr. and a Certificate of Merit from Westchester County Executive George Latimer.
As a major retiring from the U.S. Army after 30 years of service, Ms. Ramirez began the next chapter of her life when she opened the first Honey Baked Ham store in Hartsdale NY. Ms. Ramirez is a member of the Service-Disabled Veteran Owned Small Business Assn. She received CARES Act funding through a partnership with the WPWDB. This funding was structured to assist employers in hiring new staff through its EXPERIENCE WORKS Program. This program afforded her with an opportunity to provide customized employment for individuals with disabilities. As a M/WBE Rosa has accessed the support available to her in Westchester County utilizing services provided by Rob Kissner, who is the program manager of an SBA-funded Community Navigator Pilot Program (CNPP) at Iona University; Charlene A. Nixon of the Multicultural Chamber, and Nikki H. Hahn of Womens Enterprise Development Center.
"I help veterans start and grow businesses. In addition to organizing workshops and webinars, I meet with veterans one on one to access their business needs, provide guidance, and leverage our network to provide access to resources, legal advice, loan assistance, and more. We are so excited to see Rosa get recognized for her hard work," stated Kissner.
"Owning a business is so much harder than I thought it would be and I am extremely grateful for the recognition and the support and guidance I have received from WEDC, Iona, the Multicultural Chamber, the WPWDB, and Westchester County," stated Ramirez. "I sometimes think it was easier being on the front-line of Afghanistan! In the army we didn't see someone's disability. We focused on provided training and that's how I run my business."
"Ms. Ramirez has provided numerous opportunities for employment and has promoted a diverse and inclusive workplace. We are so happy to see her get recognized at the state and county level!" added Thom Kleiner.
The awards presentation is pre-recorded. Watch the awards presentation from the NDEAM website.
Pictured above, left to right: Linda McKinzie-Daugherty, Career Center Workforce Team with White Plains ShopRite team, OJ Yizar, WPCCN Career Center Manager, Thom Kleiner, WPWDB Executive Director, Rosa Ramirez, Business
owner, Charlene A. Nixon, President, Westchester Multicultural Chamber, Nikki H. Hahn, Chief Executive Officer, Womens Enterprise Development Center (WEDC), Rob Kissner, Small Business Advisor, Iona University's Hynes Institute for
Entrepreneurship and Innovation, Michele Green, Workforce Development and Business Services Representative, ACCESVR.